Vic Pictures: Well, it finally happened...this page got too big & I had to start "page 2". Don't let it slow y'all down...keep 'em comin' -- note: I WANT burnout shots ! Who can help me here ? The most HP & coolest looks gets TOP billing. So far, CV pics include: (new) Dean's '98, (new) Charlie's 2000, Kevin's '95 Marquis, Don's '93 LX, Todd's '95 PI, Joe's '95 PI, Brendan's '98, William's '92 PI, Dave's '94 LX, Richy's '93 LX, Scott's '97 PI, Chris' '92 Vic, Nell's '98 LX, Joey's Concept CVs, My Green '93 (even MORE pics), Wes' Blue '93, Juan's '00 LX, John's '97 PI, Ed's '94 PI, Joe's '92 LX, Mark's '97 LX, Ken's '96 PI, Steve's '99, Charles' '99 PI , Paul's '98, Leo's '92 PI , Marc's '98, Matt's (Florida), & Matt's '93 PI. Also,  Blown Vic Pictures from a link Chris posted on the Corral Forum. Also had to take off Kenny Brown's Panther conversion pics for more room; I put all the specs on this CVH Panther page. 
(new) Bondurant School of HP Driving, AZ -- 2000 Crown Vic with 32v 4.6L:
Mods: 2000 Crown Victoria. Eibach springs, Police Interceptor grill, bumper & trim blackouts. 4.6L 32v engine (otherwise known as the 4.6L DOHC Cobra engine), 5-speed transmission, white face guages, full roll cage with door nets, 17" Cobra rims. I am GUESSING the car also has: aluminum driveshaft, 3.55 or steeper gears & 245-255/50/17 meats.

Performance:  With the 32v 4.6L Cobra engine...I am guessing mid 14s -- high 13s with an insane driver.
Mods: 1998 base model Crown Victoria. 2000 Police Interceptor grill, bumper trim, all red taillights, and rear facia blackouts.  Bilstien HD shocks.  1996 Police Interceptor springs.  99 Mustang GT cylinder heads with 99GT cams and intake, modified 10.0:1 engine compression ratio with custom dynotuned Superchip.  ProM75 mass air meter with open air K&N (*check out this set-up), FRPP 70mm throttle body.  99 Mustang GT 11 inch torque converter rebuilt by ProTorque to 200rpm stall. SVO underdrive pullies, 2000 Police Interceptor flywheel and aluminum driveshaft.  Mercon V tranny fluid.  TransGo shift kit set on FIRM. (i DO NOT reccomend FIRM setting, go for the lowest setting on a Vic) FRPP 3.73 rear gears with Ford Positrac differential.  Custom 2 inch dual exhaust with two rear cats removed and 3 chamber Flowmaster mufflers, H pipe configuration.  Police Interceptor 140MPH speedometer.  Powerslot zinc plated 12.4 inch brakes and dual piston calipers with Carbon Metallic brake pades.  BFG Comp T/A ZR tires on stock steel wheels. 225/55zr16 front, 255/50zr16 rear.  And last but not least, a constant diet of Mobil 1 5w/30 and ProLong. Also B & M trans / oil cooler. Older pics: Front with Cop/Explorer caps, Pro-M 75mm with stock airbox. See this site with pics/parts from the '98 CV to '99 GT head swap.

Performance:  FAST (right, Chris?) !! When I first drove the car (post-GT heads mod), I came to an intersection to make a right hand turn. Cars were coming so i turned and punched it -- car downshifted into 1st gear and proceeded to SMOKE both rear tires ALL THE WAY TILL 2ND! Try that in Grannies LX! Car is still screwed by STOCK PCm programming, which means 1-2 takes place at 25mph and rev limit is 4500rpm if shifted manually. im STILL waiting for my Superchip I ordered a few weeks ago. as soon as that arrives, its dynotune time! as is, it feels like i gained a minimum of 20-25rwhp MINIMUM.
(new) Chris' -- '92 Crown Vic (more pics):
Mods -- aka "The Rocket Couch": Cat back exhaust with 2 1/2 inch piping, 2 Chamber Flowmasters, a Carsound X-pipe and dumps, Superchip, Pro-M 75mm MAF, K&N conical filter, FMS 4.10 gears, a Mustang posi, Transgo Shift Kit, B&M tranny cooler, PI driveshaft, 17 X 8 Fittipaldi Tubolares with 255/50/ZR17 BF Goodrich Comp TA's, Bilstein HD's, 98 PI springs, 140 mph PI speedo, Cobra Daytona Sport seats, Autometer 3 3/4 Sport-Comp tach, Tint, Pioneer DEH-P400 face, Auto-Specialty cross-drilled rotors and carbon metallic pads. 

Performance: Quarter mile in 16.5 @ 81 mph.

Future plans include: 99 (Mustang) GT heads, intake, cams, rods and pistons, torque converter, paint job, and police accessories... See Chris' Crown Vic Photo Album on Zing.
Mods: New paint (from White to Blue), 17" American Racing Torq Thrust IIs: the fronts are 17 X 8 with 4-3/4in. backspacing and the backs are 17 X 8 with 4 in. backspacing. BFG 245/50/17s all around. Stock springs cut by 1/2 a coil to drop the ride 2 inches. Ford 9mm plug wires, 3:73 gears, superchip, custom air induction piece with stock mass air & conical K & N filter (We adapted the tube from a Nissan Pathfinder package. The length and the bends were similar to the routing we wanted in the CV. The pipe is 3 inches. The vacuum hoses (brake booster and the other [EGR?]) were tapped into the pipe using nipples that you drill a hole then set a lock nut inside the tube then tighten. The ends protrude into the tube about 3/8 inch which isn't much considering what the stock setup does to the air. The brake booster hose didn't need any alteration with the placement of the nipple but the EGR's metal tube was lengthened with less than a foot of rubber hose. The nipples were found at Home Depot and in fact if we didn't use the polished pathfinder kit (show and go) we could have used plastic pipe (abs or pvc) for a low buck system." Also, power locks: "the front doors already had the solenoids installed. They looked factory but just weren't hooked up. We bought a pair for the rear, switches and switch plates. The harness already had the wiring for the locks. For less than $60, we got factory power locks"

Performance: Best 1/4 mile time is 16.494 @ 83.92 mph. Also, a BURNOUT !!! =) NOTE: More pics of Wes' ride are on the Yahoo! CV/GM Club and on Wes' & Ed's Hotrod Page.
Charlie's-- '00 Crown Vic P73:
Mods: Sears DieHard Gold Police battery (900CCA, 1000CA), Go Rhino grille guard, Gabriel Gas Ryder LT VST shocks (front), 2000 PI black grille, Disabled beltminder system, Recent winter sneaker set-up: 16" Ford steel rims (from tirerack.com, a Ford supplier: Hayes Lemmerz International), Ford (type 170) centercaps & lugs, Dunlop SP 5000s @ 225/60/16ZR. Charlie's Web Site with more PICTURES & stats.

Plans: Hotchkis anti-roll bars (or Addco, whichever is thicker), HD Bilstein shocks (rear), PI springs up front, polyurethane bushings up the wazoo, Custom boxed control arms. After doing all that, I'll need to evaluate the air springs - if they're really bad, the PI rear springs are going in. As you can see I want this CV to reach 1.00g before doing anything to the powertrain. =)

Performance: No data yet, but *I* can beat his fancy-schmancy "deep wedgewood blue" 2000 ! :-P Nanny-nanny, boo-boo !
Mods: Completed the rear 1.5" progresive rate lowering springs. The above right link (click the picture) shows the pre-lowered '92 CV on the bottom, and the window tinted lowered vehicle on the top. 1992 Crown Vic LX - It's an early '92 with the AOD, not AODE and 3.08 gears, white with grey interior. I've added a Superchip with the top speed limiter removed and factory type dual exhaust system. The wheels are 16" X 7" SEC Oasis Alloys with 225/60HR16 Nitto NT460 tires. I placed "Ford Police Interceptor" decals on the rear quarter windows for fun.

Future plans: lowering springs, window tint, Pro-Flow Pro-M77mm Mass Air system, 140mph speedometer, headers and maybe 3.55 gears
Mods: 1998 Crown Victoria P71-Interceptor, 4.6L SOHC V-8, True Dual exhaust, Flowmaster 40 Dual Chamber mufllers, Color is code "FU", I know, its stupid, but thats what it is. I think they call it Spruce Green Clearcoat. Firestone Firehawk GTA tires. Wheels and center caps are vintage P71, but with the added touch of Chevrolet 16" Stainless trim rings. More mods to be coming. More PICTURES of Dean's ride.
(new) Juan's '00 Crown Vic LX (brand new -- woah nelly!):
Specs & Mods: It's an LX with 3.55's & dual exhaust...also has the Mickey Mouse digital dash, but I'm getting used to it. I blacked out the chrome trim on the bumpers and put on a black PI grille. I have black door handles on order and trying to figure out how to black out the chrome trim around windows and rear lights (like KB's panther). NOTE: See Juan's 2000 LX @ 1152 x 872...image is 419 KB ! AND this new one @ 413 KB: Left Rear shot @ 1152 x 872 !
Leo's ride -- '92 CV Police Interceptor:
Mods: 1992 P.I. from Las Vegas police: 180 thermostat, K & N cone filter, Bosch +4 plugs, Motorsport underdrive pulleys, Motorsport 3:55 gears, Motorsport headers, custom-built transmission (by a friend at the Las Vegas metro police garage) AOD-E with TransGO kit and Motorsport wide ratio gear set, Dynomax mufflers with 1995 tail pipes (no resonators), new computer module (custom made), silicone hoses (police issue), urethane suspension bushings.

Future plans include: REPLACE 4.6 WITH A 5.4 OR A COBRA 4.6 4 CAM, replace 15 inch wheels with 16s from a 99 police CV. I'll keep you posted -- my 4.6 finally died after 186,000 miles of hard, hard use. So, I'll be replacing the motor sooner than i expected. I'll keep you posted as to which engine I choose
William's -- '92 CV Police Interceptor:
Specs & mods: My CV was purchased through a dealership that specializes in auctions. My CV is a 1992 Police Package, I tried to make it look as civilian as possible. I added a K&N package along with Flowmaster mufflers. I did upgrade the current plugs and plug wires just to give it that racy look under the hood, however not a big noticeable difference in performance. It still has the original 4.6 engine with a whooping 167,000. The transmission got shot at 140,000 so I had to rebuild it. I went ahead and just had it rebuilt, I can't complain its working great. The rims are actually 15" centerlines, I have always liked that brand and plan on sticking with them in the future cause I would like to upgrade soon to 17" or higher. I was reading your page about the chip and had no idea that those actually existed and would like to make that my next upgrade. I guess that is about all for the near future I do plan for a paintjob cause if the sun hits the car just right you can still see the county sheriff markings on it. I'm thinking about a dark hunter green.
Mods (*new 9/9): See the My '93 Vic , My Progress (recent mod details) or my *new Zing photo album for more pics on these mods: Superchip, 2+1/2" Cat back exhaust with custom X-pipe & Dynomax Super Turbos, Ford Motorsport 3.73s, new Traction-Lok, 23-tooth speedo gear, FPS Underdrive Pulleys (took off water pump pulley due to overheating from slower than stock water flow), TransGO shift kit with Red Line D4 ATF, Pro-M 77mm mass air with K & N conical filter, Ford 9mm GT wires (from a '97 GT), Motorcraft copper plugs, Red Line Water Wetter with 70/30 mix & 180 thermostat, Mobil 1 Synthetic Oil, stock rotors custom "slotted" and B & M 19,000 GVM tranny cooler.

Future plans include: 16" PI rims & center caps with 255/50/16 BFG Comp T/A ZRs all around, '99 GT heads, SVO aluminum drive shaft, SVO u-joints, Cut stock springs or spring kit, Bilstein shocks, Addco 21mm or 25mm sway bars, Energy poly bushings front/rear, 140 Pi speedo, new paint job, Pro-M Optimizer, CD & Cassette player, Autometer 2-3 gauge pod with tach, temp, oil.
Check Matt's ride -- '94 Crown Vic: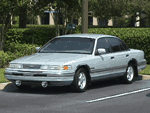 Mods: K&N conical filter charger from 96 Mustang GT (click to see specs & pics!), Mustang 16X7 OEM rims with P235/55R16 front and P245/50R16 rear Yokohamas, TransGO shift kit and bullet-proof sprag installed in rebuilt transmission, 3.27 gears installed in rear-end with Torsen Limited Slip differential, AC-Delco Rapid-Fire sparkplugs, Jacobs electronics 9MM sparkplug wires, Superchip installed in computer with rev-limiter removed.

Future plans include: Dual exhaust and chrome tips, Suspension upgrade to tighten ride, 4.6L SOHC Motor has 125K, when engine is rebuilt, plan to fully port and polish, increased valve size, bump the cam, Ford MS shorty headers, DOHC oil pump, Manly rods, DOHC windage tray.
(new) Check Richy's ride -- '93 Crown Vic LX:
Mods: @ 108,000. 130amp police alt. 1000 amp battery new battery terminals (those factory ones sucked), dual exhaust with chrome tips chrome hips (wheel well chrome) full metallic bronze tint lifetime warranty, power sunroof lifetime warranty, kenwood mask cd, receiver with remote panasonic 3 way 6x9s front-phoenix, gold 5x7s in the doors, pioneer premier amp 100x4 kmc rebels 5 spoke alum. polished with silver paint, 225 60 r16s (these tires should be on by this posting). first the delivery was late set me back a day then they take my wheels off to find the studs are a diff. size then indicated in the book so they ordered the right size. i hope they look alright i didnt think low profile would look right since i dont want to replace my springs and so not to leave a gap and to keep a nice ride i went with tall tires...another side pic.

Future plans include: custom leather, custom analog gauges, better anti-sway bars, new luxo shocks, baer 4 wheel disc brakes (bigger discs and better calipers), probably a built mustang 2v 4.6 (this engine will be built by seanhylandmotorsports maybe stroked too). not sure if ill keep aode or go manual either alum. or carbon fiber driveshaft. headers if i can fit them long tube dr. gas xpipe with high flow cats and 3 chamber flowmasters. EDITORS NOTE: had to take this pic down, Richy...i was getting WAY too much "fan" e-mail from the manly pose. i sent the Playgirl offer on to you, tho ! =)) Just kidding...check more of Richy's Ride on the Yahoo! Club under Photos.
Nell's ride -- '98 Crown Vic LX with P & H:
Specs: The car is a 1998 LX with P/H, silver with gray cloth, loaded with ABS and Traction Control. I have no experience with T/C, or ABS, really, so I need to get used to them. I may shut the T/C off, not sure. The car has 23,490 miles on it, and is very clean. I think I may get a K&N air filter, since you don't have to be a mechanic to put one in.
John's '97 Police Interceptor (wow, ULTRA clean!):
Specs: The car was previously owned by a State agency (not used and abused by a local, county, or state police dept),  and it is in perfect condition. It is a "true" police package unit (containing a P71 VIN number), 140 MPH certified speedometer, stainless steel factory dual exhaust, 4 wheel ABS, traction control with a 3.27 ratio. It has no dings, dents, scratches, or equipment holes in the interior.. Even the engine compartment is spotless.
Scott's '97 Police Interceptor (with "vintage" camera filter):
Specs: I purchased the 1997 Crown Victoria PI at an auction held regularly where one often can choose from 40 or more Crown Vic Interceptors. It is the full P71 package with cruise control, anti-lock brakes and traction control, power doors, locks, windows. It is in pristine shape for a former State Police vehicle. I bought it with 87,000 miles on the odometer for just $5,900!!! It is the cleanest vehicle I have ever seen. It was thoroughly checked by a Ford dealer and pronounced in excellent shape. The vehicle is used as a daily driver. I average about 21 mpg if driven with a light touch on the pedal. I use synthetic oil (5w-30) and for now, everything is stock. The vehicle came from the auction with plastic zip-strip handcuffs in the trunk! Wild!